15 Inch Wheels for Mercedes 108-109's
The reason 300 SEL 6.3 owners want to switch to 15 inch rims begins with the tire situation. The 6.3 originally came with special 195 VR Type 70 FR 70 VR 70 tires. Mercedes now recommends 215 70 VR 14 tires. None of the available 14 inch tires have the original load carrying capacity. Thus owners want to upgrade to 15 inch tires where there is a much greater variety of suitable tires.
All 1968 and 1969 300 SEL 6.3 cars came with 14 inch steel wheels as standard. Up until March 1970 they were fitted with sheet steel wheels without inner venting ring. After April the steel rims had a inner venting ring called version "b". The 68-69 steel sheet disc wheels were made by Kronprinz, and carried part number 108 400 01 02. They can be identified by the slots along the rim. The April 1970 and later steel sheet disc wheels were made by Sudrad, and carried part number 108 400 08 02. They can be identified by the 20 round holes along the rim.
In August of 1970, option code 64/0 "Leichtmetallrader" the 14 inch "Bundt" rims became an option on the mighty 6.3's. The 14 inch light metal disc wheels were delivered as spare parts only, (108 400 16 02) they were delivered in the trunk with lug bolts, ornamental wheel caps and tags for wheel and tire assembly. The 14 inch light metal disc (aluminum) came in 2 sizes, 14x6.5 Convoluted 15 Rib ET30 (offset) MB # 108 400 10 02 for the 300 SEL 6.3 and 14x6 Convoluted 15 Rib ET30 MB #108 400 09 02 for 280 and 300 SEL's with smaller engines. Fuchs made these light metal wheels for Mercedes Benz. These wheels are often called "Bundt" or Fuchs wheels and were often chromed by Americans. Note Mercedes Benz does not offer chromed wheels, in fact they are illegal to drive with in Germany.
A lot of 109 and 116 drivers are looking to upgrade to 15 inch rims 7Jx15" Fuchs-wheel rims that look like the 14 inch "Bundt" rims. The 7Jx15" were also manufactured by ATS, Centra and Ronal. They are not available any more new, but it's possible to get them used. Michael Trei of the M-100 International group has a set made by ATS. Some of them have offset 35, on the 109 and W-116 you need offset 23 or 25. The original 7Jx15" Fuchs-wheel in the old style were never sold in Germany.
Star Motors in NJ has a few set of OEM'S left at $650.00ea. You can also try Mercedes Benz Classic Center. These wheels are quite rare and most people have not even heard of them. Michael Trei has found some ATS replicas in Germany for his car but in the U.S. they are really hard to locate. ATS made them and also Ronal.
Michael Trei has the Holy Grail on his 6.3, the rare 15 inch Bundt wheels with Yokohama AVSdb 225/60VR15 tires. Wheel offset (ET) is 30 mm, he needs no spacers. Solid rear discs.
Stock 1970-1985 14 Inch Bundt Wheel ET30 (offset)
Chrome 14 inch Bundt Rims on 6.3
Deep dish 15 inch Bundt Mags on Stu's 6.3
Chrome 15 inch Bundt Mags on Karl's 6.3
15 inch Ronals on 108 225/60/15
8 hole (Round holes) aluminum wheels 15 X 7 inch on 6.3 can also come in 16 X 8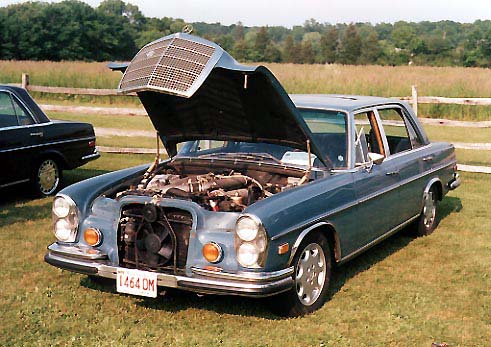 Late Model (15 square holes)Chrome 15 X 7 inch wheels on 6.3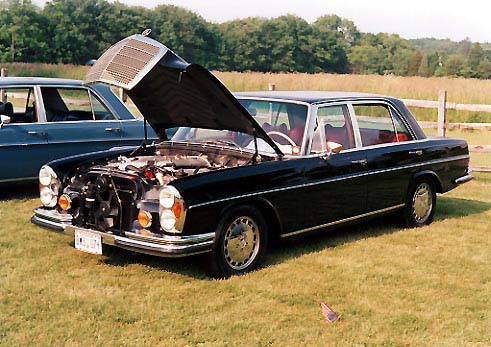 15 chrome on 72 450SL