Breaststroke Articles
About Wayne
Wayne's Articles


Other Articles
Breaststroke
Web Master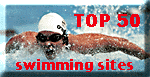 Breaststroker's Web Page
This site is dedicated to Competition Breaststroke with numerous articles on Breaststroke.
Wayne McCauley is the author of numerous articles about swimming and competition Breaststroke.
Publications and writings:
"Breaststrokers Web Page" number 1 rated web site for breaststroke articles in all search engines.
Articles for SPMA's "Swimmers Source" newsletter for 7 years.Link
Breaststroke article for "Swim Technique" Magazine Oct-Dec 2001 issue. Link
Breaststroke article and Video reviews for "Swim" Magazine. Link
Articles for "Fleet Feet" magazine, heart rate monitors and using them in pool training.
Articles published (2) in "ASCA Newsletter" on breaststroke turns, coaching breaststroke.
Article published in ASCA "American Swimming" on breaststroke. Link

Masters Swimming accomplishments:
National and World ranked 17 consecutive years.
National champion Breaststroke
All-American Breaststroke (fastest time in USA for age group)
Competed in numerous International Masters meets, Scotland, Paris, Australia.

Certifications: ASCA Certified Masters Level 2. Completed Level 1 Foundations of Coaching school, Level 2 Stroke School, Level 3 Physiology School, Level 4 Administration School and Level 5 Leadership school. Completed Masters certification school. CPR and First Aid. Member MACA.